Score Audio Preview
Score Source
03:31
PaidTabs offers money back guarantee.
Snake Devil - Scary Kids Scaring Kids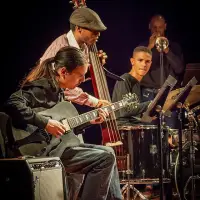 dani_gtr
$10.00 USD
Instant Delivery
Score Includes
Lead Tracks 🎸,
Rhythm Tracks 🎶,
Half-Step Down,
Key Am,
Inc. Chords,
Tune down 1/2 step Tuning,
208 Bpm,
Audio-Synced,
Guitar Tab
Delivery Files
Guitar Pro (.gpx),
Adobe PDF (.pdf)
Have questions about buying this score?
Would you like a custom version of this score?
Similar scores you may like
Available upon request
Plenty of highly skilled freelancers are available to provide transcription services for any piece of music you need.